Welcome to
Inlingua Cheltenham
The school was founded in 1990 and since then has established itself as a provider of high-quality English courses. Cheltenham like the school is growing as it is increasingly becoming recognised as one of the safest and most vibrant places to learn and live in the UK. The town offers so much for all ages, great shopping, world class entertainment and award winning restaurants. Likewise, the school is enjoying an increase in popularity as one of the finest schools in the UK to learn English. At Inlingua Cheltenham you can be immersed in a culture and language used all around the work in Business and commerce.

Come and join us at Inlingua Cheltenham, the home of fine teaching and excellent service. With us you will have an experience to remember for the rest of your life.
These English courses are available all year round. The LSP 20 and 30 are General and Intensive English courses offer the following structure: Morning lessons focus on grammar and language skills. In the afternoon students can take additional skills lessons in Academic English as well as preparation courses for IELTS , Cambridge First, Cambridge Advanced and ESOL qualifications.
Monday - Friday 09:00 - 12:15 (15 hours per week)
This is a popular programme for those who wish to have a less intense course or can only do morning lessons. This course is 20 lessons per week (15 hours) and runs from 0900-1215 including a short break. The course covers the four skills of General English. Class sizes maximum 12 students.

Also We offer a full social programme throughout the year and all activities and excursions are organised and led by Inlingua Cheltenham staff. During July and August we host activities every weekday afternoon and evening, plus full day excursions on a Saturday.
Monday – Friday 09:00 - 16:45 (22.5 hours per week)
Our most popular course of 30 lessons per week (22.5 hours) of intensive English. Classes run from 0900 to 1500 per day including breaks. The course is based around General English in the morning where the four skills are taught and in the afternoon we offer skills lessons and IELTS, Cambridge First and Advanced exam preparation. The class size is maximum 12 students.
 Dates: Start any Monday Class Size: 12 + 1 to 1 Age: Adults aged 16+
Why Choose Inlingua Cheltenham?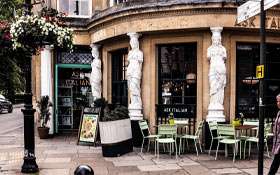 Choosing Your Accommodation
Accommodation for students is either a walk or a short bus journey away. Students will be impressed how quick and easy it is to get around the town, either walking to school or going home at night to their homestay.
Students often say that their living situation is almost as important as their course. Living with a local family gives the student a chance to practice their social English in the evenings as well as share cultures with their hosts.
Homestay - Single, half board
Homestay - Single, full board
Homestay - Single, half board, private bathroom
Homestay - Single, full board, private bathroom
Homestay – Single, self catering
Offering you more space to yourself, our hand-picked student residences provide the chance to live more independently with like-minded people from all over the world
Hotel, Serviced Apartments and B&B
If you choose to pay your accommodation fees in instalments, the school will charge, at its discretion, a £25 administration fee.