Welcome to
Stafford House
Stafford House International is a boutique group of English language schools that offers courses for general, academic and professional purposes. Our mission is to educate, inspire, and help our students enjoy our cities, empowering them with confidence, to realise their personal potential. The school is located in the heart of the action.

Canterbury is in the heart of the Kent countryside, which is known as 'The Garden of England'. This corner of England is rich in history because it is so close to mainland Europe – you will find castles everywhere you go! Our school is just moments from the centre of this medieval city, full of history yet vibrant with student life. Situated in between some of the world's top universities, You'll also find all the academic inspiration you need around you.
Monday - Friday Morning or Afternoon (15 hours per week)
Our course General English class is an integrated skills class, covering reading, writing, speaking, listening, grammar and vocabulary
You will find in this course:
Focus on developing practical and functional skills, rather than just learning grammar or vocabulary. Engage students in practical tasks that relate to or simulate real-world English. Prioritise meaningful, communicative language over traditional exercises. Encourage students to develop an awareness of their own strengths and weaknesses. Encourage students to reflect on their own progress and set goals for their improvement.
INTENSIVE English (most popular)
Monday - Friday Morning or Afternoon (19 hours per week)
All students on our Intensive courses can personalise their learnings through the addition of specific modules. These modules run on four-week cycles and give students the ultimate flexibility, as modules are designed around what our students say they want and need.
All prices and lessons shown are per week. Start Dates: Every Monday
All our classes have a maximum of 15 students. The minimum age for students wishing to join a course is 16 years old
Why Choose Stafford House​?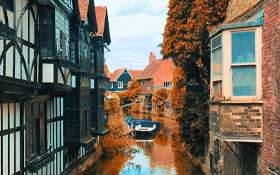 Choosing Your Accommodation
Whether you prefer the independence of a student residence or the familiarity of homestay, our accommodation options are chosen to offer you the flexibility of choice and quality you deserve.
Homestay accommodation (Age 16+)
One of our most popular accommodation options, homestay allows you to integrate into family life and practise your English language outside the classroom, over dinner and throughout the weekend with your welcoming hosts. This is a unique way to live and study at your chosen destination.
Homestay - Single, breakfast only
Homestay - Twin, breakfast only
Residential accommodation
Completed in September 2020, Holmes House is a modern student residence offering students fully furnished rooms with private bathroom, study area with desk and chair as well as plenty of storage space. There is a spacious kitchen living area for every 6 students. The residence is ideally located next door to the school and only a 5 minute walk from Canterbury city centre. The residence offers a high quality finish throughout and features a spacious communal area, outside courtyard seating area and free laundry facilities.
Holmes House – Single, en-suite, self catering
Price include bus pass. Twin homestay is only available to two friends sharing.
Twin homestay is only available to two friends sharing.