Welcome to
UK College of English
Situated in the heart of the world's most exciting city, UK College of English has 11 training rooms over five floors on the corner of Oxford Street and Soho Street. Completely refurbished in May 2017 it provides for a modern and functional learning environment. With WIFI throughout, air-conditioning in every room and learning spaces equipped with open-use computing it proves itself to be a comfortable and convenient site for modern learning.

Only two-minutes' walk from Tottenham Court Road tube station and less than a minute from connecting bus stops, getting here could not be easier.
Monday - Friday 9:00 – 12:15 (15 hours per week)
Our most popular programme, General English, covers all the four key skills, provides learner support through individual tutorials and oers a stress-free learning environment for students of all levels. Whether you are just starting to learn or are well on your way to proficiency, these programmes will give you what you need to go further.
Minimum age: 16 Courses start: Every Monday Class size: Max 14, average 8
Monday – Friday 9:00 – 14:30 (25 hours per week)
Carefully designed to build on your strengths and work on your weaknesses, these fully rounded courses will provide you with the progress you need to make. The courses have been developed to ensure that all skills areas in English receive the right degree of focus for every individual in a class.
Why Choose UK College Of English​?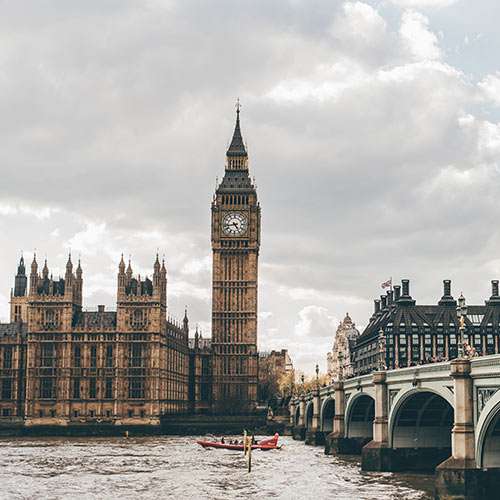 Choosing Your Accommodation
London offers many independent options for accommodation and we will be happy to assist you wherever you choose to live. You can decide to stay with London hosts, or in residence accommodation where you will be sharing spaces with other students and international explorers.
Homestay accommodation (Age 16+)
Homestay for students looking for a great experience at a great price. Hosts International, who have been placing thousands of students throughout London and the UK for more than 30 years, oer an extensive range of homestay right across the capital. You will see from our prices that they can also provide a variety of meal plans to suit every student's needs.
All homestay prices are per person per week. Twin rooms are only available to friends sharing.
We are delighted to oer a variety of residentials accommodation options. The Curve and The Collective are 2 popular options. Both are modern, comfortable and convenient and present dierent room options to fit your requirements. The accommodation is all self-catering.